The monthly roundup will be an end of the month post of things that caught my eye, a grab bag of sorts. I've been thinking of doing a post like this for awhile now, so we will see how it goes, and I'd love to hear what you all think. If you have any feedback, things you'd like to see, or questions, please comment below!
Being a particular person, a meticulist, if you will, I always have my doubts and struggles with cooking meat to certain temperatures, how long to let it rest, etc. I received a Taylor digital meat thermometer a few years ago, but even struggled with that since if I checked the temp while the meat was still on the grill, it always read too high, and if I pulled it off, to take the reading, I typically let the juices out and interrupted the cook. My in-laws gave me the Meater for Christmas, and so far it addresses all of these concerns.
For starters, I love how clean and simple it all is. The nice wooden box has one AAA battery that charges the probe when in storage, there really weren't any instructions, you just downloaded the app and everything was very simple, well thought out, and pretty intuitive. The app had videos throughout to give you all the info you would need. The thermometer itself connects to the app via Bluetooth once you remove it from the charging dock, and then you setup a cook through the app indicating the type of meat and your target temperature.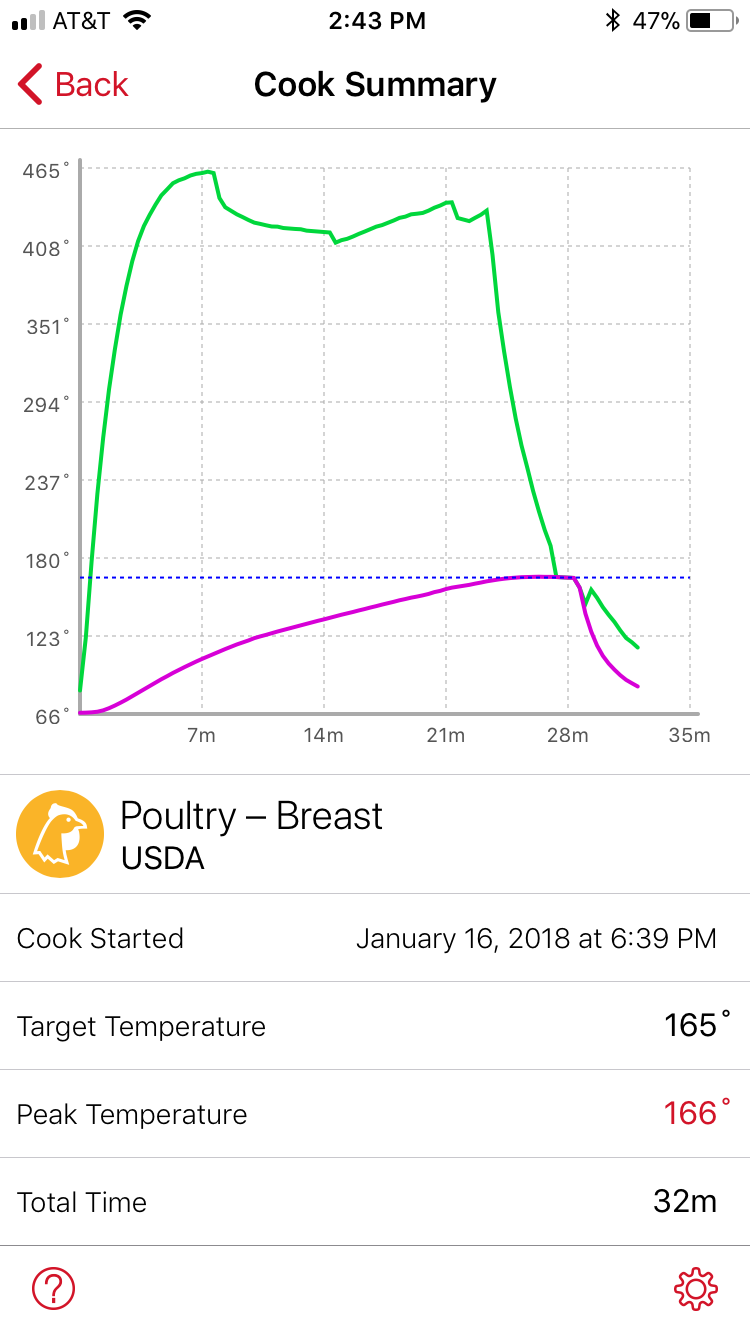 You can setup alarms in the app to alert you with 10 minutes left to start the rice, an alarm if the meat or grill get too hot or too cool, etc. It detects the meat temp and the grill temp, and even provides a graph and readout of how your cook progressed, so you can learn and adjust for the future.
By far my favorite part is that it alerts you when to remove the meat from heat and let it rest, as well as how long to let it rest. This was a big revelation for me and has made for some of the most moist and perfectly cooked chicken breasts I've ever grilled.
Meater starts at $69 for one, and there's a lot more information available on their website here.
If you frequent coffee forums this isn't news to you, but Hario has changed the V60 filters, and I'm not quite sure it's for the better. The new filters are easily identifiable by the tab, and are made of heavier and thicker paper and result in longer draw down times. I was able to overcome this by grinding coarser, but I think one of the biggest selling points to the traditional V60 filter was that it was so thin you had a lot of control over draw down and brew time based on your pour and grind fineness. I suppose this might make these filters more forgiving, and so far after adjusting the grinder about 1.5 - 2 full macro settings coarser on the Baratza Vario, the results seem okay, but I guess it's just a classic case of getting used to something you know. So, just a heads up, if you end up picking up the new filters, I would recommend grinding coarser to maintain similar brew profiles.
This probably isn't news to anyone reading this, and I'm not a big or avid podcast type, so I'm sure I'm missing out on some good ones out there, but The Grey Nato is one that I try and keep up with. I just don't find myself with a ton of time in the car or sitting long enough to listen to an episode to keep up with other podcasts, but I'm pleasantly surprised that I've listened to nearly all of the 51 episodes. Jason and James are both freelance writers and photographers and discuss everything from interesting books or articles they've read, Netflix suggestions, or new gear. Even in the world of expensive watches, there's a down to earth appeal of their perspectives and context, and I share in their excitement for adventure and the well made. So, if you're looking for a new gear, watch, travel, and adventure oriented podcast, give The Great Nato a listen.