In Part 1 of the journey towards finding the perfect tamper, I discovered that optimally sized tampers are important to make the espresso process more consistent and improve extractions. In Part 2, I started to examine different tamper styles and learned how the different characteristics of each can change the way they're used / who they're best suited for, as well as what attributes would make up my perfect tamper:
A handle length between 2 and 3 inches, ideally around 2.5" - 2.75" to provide enough handle for my pinkie and ring finger to hold while tamping, but but short enough to do finger tip leveling tamp.
A 58.3 - 58.4 mm flat base, ideally with consideration to the exterior edge detail to prevent suctioning of the puck when removing the tamper. I also found that the 58.35 mm base ordered from Coffee Complements on eBay was able to fit in the Espresso Parts HQ 14g ridgeless double and IMS Precision Filtri 16/20 double, so that was a positive that the oversize base would work for other baskets besides the 18g VST Precision.
An angled or smoothly transitioned base - I was seeking a base where the top of the piston would be friendly to the fingertips and hopefully have a nice surface to press against, and not too hard of an angled exterior edge when tamping.
Ultimately, I decided for something that I use everyday, that should last for years, I should just be patient and get it "right". So I started seeking out options.
Naturally, I started with the most common and well-regarded name in espresso tampers, Reg Barber. The Canadian tamper company has been making high quality tampers for over 20 years, and for a long time was THE go to and only name in high quality tampers in the coffee industry. Their tampers come in a variety of different base and handle styles, and in a ton of different woods and metals, in just about any color you could think of. The variety of handle shapes is sure to please just about anyone, and I was zeroing in on the short ball handled model. I contacted the company to try and determine the length of the handle and height of the tamper overall to ensure it was short enough to "palm" it and do a fingertip tamp but long enough to still have enough to hold onto. (As an aside, it's amazing that none of the tamper companies list the dimensions of the handles on their sites.) The short ball handle is about 2" long with an overall height of just under 3", according to the email I received. This was potentially a touch short, but I started to look into ordering one to work up the pricing from RB. Their site is sort of a la carte, allowing you to pick your base material, size, style, handle style, and add any personal touches. A 58.4 mm, flat, stainless steel base, with Delron insert in the handle came to $95CAD, which at present exchange rates, was pretty reasonable. However, shipping to Arizona was $26. For whatever reason, this became a huge turnoff to me for such a small box. When I started searching Reg Barber retailers in the US to save on shipping, it seems very few had this size, and most retailers were out of stock on nearly everything. I get the impression that Reg Barber is trying to drive their sales model to direct sales, but that shipping charge combined with the uncertainty of it being the correct handle, led me to consider other options.
A new and hip(ster) company out of Salt Lake City, Utah, SAI is making very high quality and beautiful coffee tools and accessories. Founded by three bothers with experience as coffee professionals, their tampers looked promising. A nice low profile piston, with what looked to be a very nice sloping edge and surface to tamp against on the top of the piston, in 5 different types of wood, with custom options, and beautiful finishing, these tampers were sexy.
The $149 price tag is a bit on the steep side, but looking at the inlays and the finishing quality, it seemed justified. Upon inquiry, their Statesman and Thoroughgood tampers were both 3.5" high, with a handle length of about 3", and they offered custom lengths as well. That puts these tampers right at the cusp of being ideal for my preferences. There was a delay in communication back from them, which I suspect is due to the fact that they have recently been picked up by the likes of La Marzocco Home. Ultimately, I think I would have really like to have tried one of their tampers, but before I was able to hear back from them, I was working through options with a very responsive Pullman Rep.
I pretty much had to order from the Australian based Pullman Coffee Tampers; they were continuously responsive in a very timely manner to all of my detailed questions! The customer service I received from Mark Ruta, at Pullman was exemplary, as he worked closely with me to understand what it was I was trying to accomplish and ultimately offered a custom length handle as the best solution. Their tampers were immediately appealing in that they are height adjustable by using various spacer rings, and not only was the top of the piston a very friendly shape, the Barista and Big Step models feature a rubberized inlay to reduce the stress and pressure on the fingertips when tamping. Mark and I were able to determine that the standard tamper handles might just be short enough without any of the spacers, but he thankfully suggested I go with a custom length handle 10 mm shorter than standard, which has turned out perfectly. With a handle length of about 2.5" from exterior edge of the base to top of the handle, and an overall height of 3 1/8", the tamper fits into my hand exactly how I want it to, and I still have the option to adjust the length with 2/5/8 mm spacers. The custom length Zebrano wood handle is beautifully finished with a subtle Pullman logo, and everything fits and screws together nicely. The 316 Stainless Steel base is 58.3 mm in diameter and has groves on the sides to relieve the suction effect of the puck as well as serve as a visual aid to performing a level tamp. Pricing was just slightly over that of the SAI tamps, however considering it was being shipped literally around the world and it was a custom length, I was quite pleased with the price (it helps that the exchange rate is favorable against the AUD right now).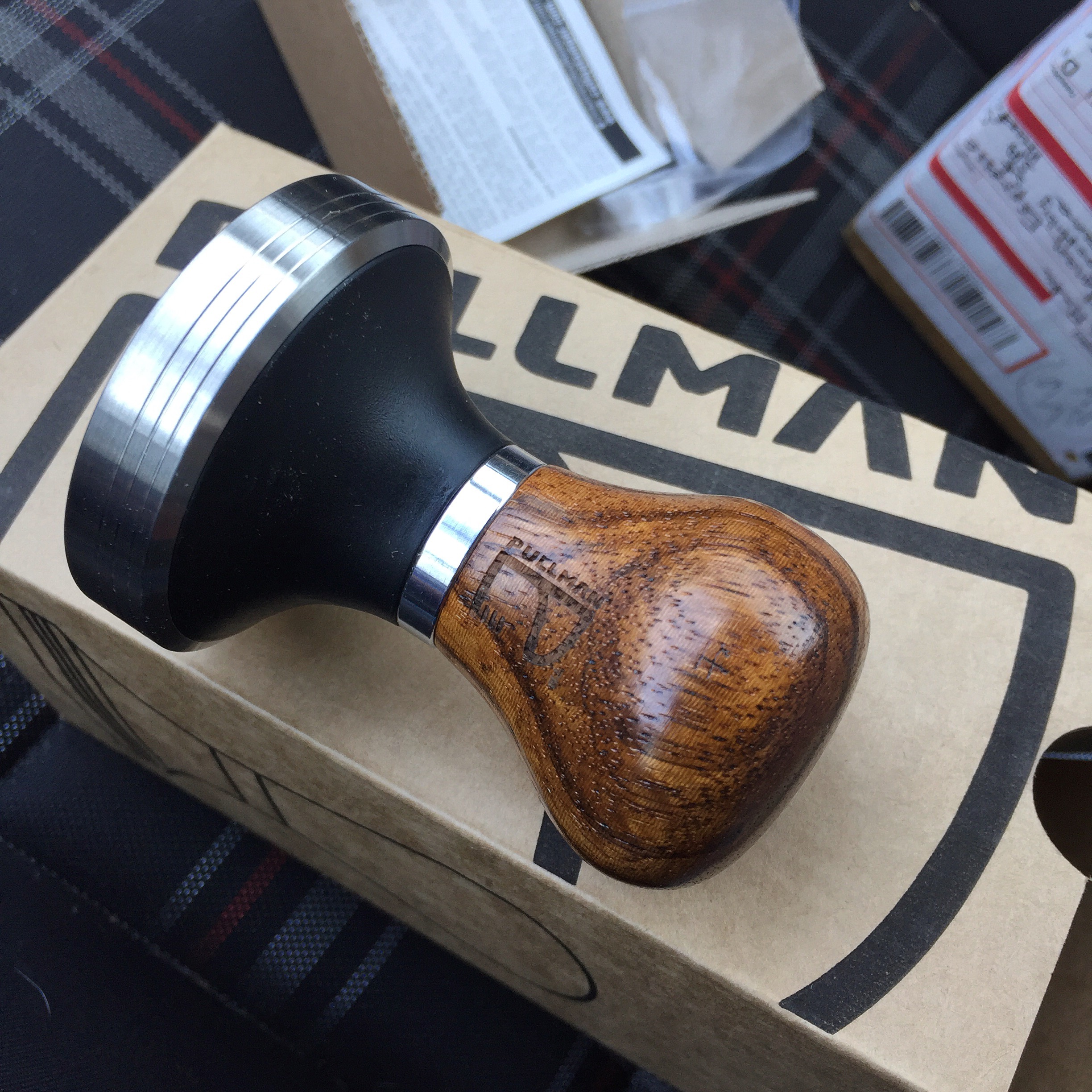 What more can be said about this tamper? I'm extremely pleased with the extractions, simply using Matt Perger's side tapping method of distribution out of the doser, doing my perimeter fingertip leveling tamp, and then a final tamp, I'm getting nice even extractions out of the 18 gram VST basket.
The tamper is very comfortable to hold, and the fit and finishing is exactly where I would want it to be from a high quality (and high priced) item such as this. I honestly feel like the amount of thought that went into the design and execution of this tamper warrants the price. Pullman also offers a less expensive option called the Nexus, which is slightly heavier and omits the rubberized piston, and an over sized version of the Barista, specifically for VST baskets, called the Big Step. The Big Step is lighter than the Barista and Nexus, for those preferring a more balanced and less base heavy design, and features a massive 58.55 mm diameter base designed to optimize extractions with the large VST baskets. It's also the tamper of choice for the boys over at Cat & Cloud Coffee, and they're importing and offering them for sale, making it a little easier to get your hands on one stateside.
With my ideal tamper now in hand, I'll have to start diving into differentiation between some of the top level filter basket options. Until then, I hope you enjoyed reading my quest for the perfect tamper, and be sure to click though any of the pictures and nearly any other bold type for more info. Don't be shy with questions, comments, and suggestions, and keep drinking good coffee.