One of my favorite things to do when traveling is find new coffee shops/roasters to try. I came across this one on my last day in Shanghai, China recently. When I walked in, I knew I was in the right place.
Seesaw keeps two different espressos on the bar, and this one was billed as their lighter and more fruity of the two. It's funny because every time I ordered one of the lighter roasted coffees in China, the barista would always almost warn me, "this one is more acid or sour." It turns out they haven't been to a lot of shops in the US then, because even their "light roast" acidic blends are developed a little more, showing less acidity and fruit and more caramely sweetness than in the US. This one, a blend of 40% Guatemalan Bourbon and 60% Kenya AA SL28 is very smooth and sweet. It came in a really nice resealable bag with a great hang tag on it with their recommended parameters, which I love.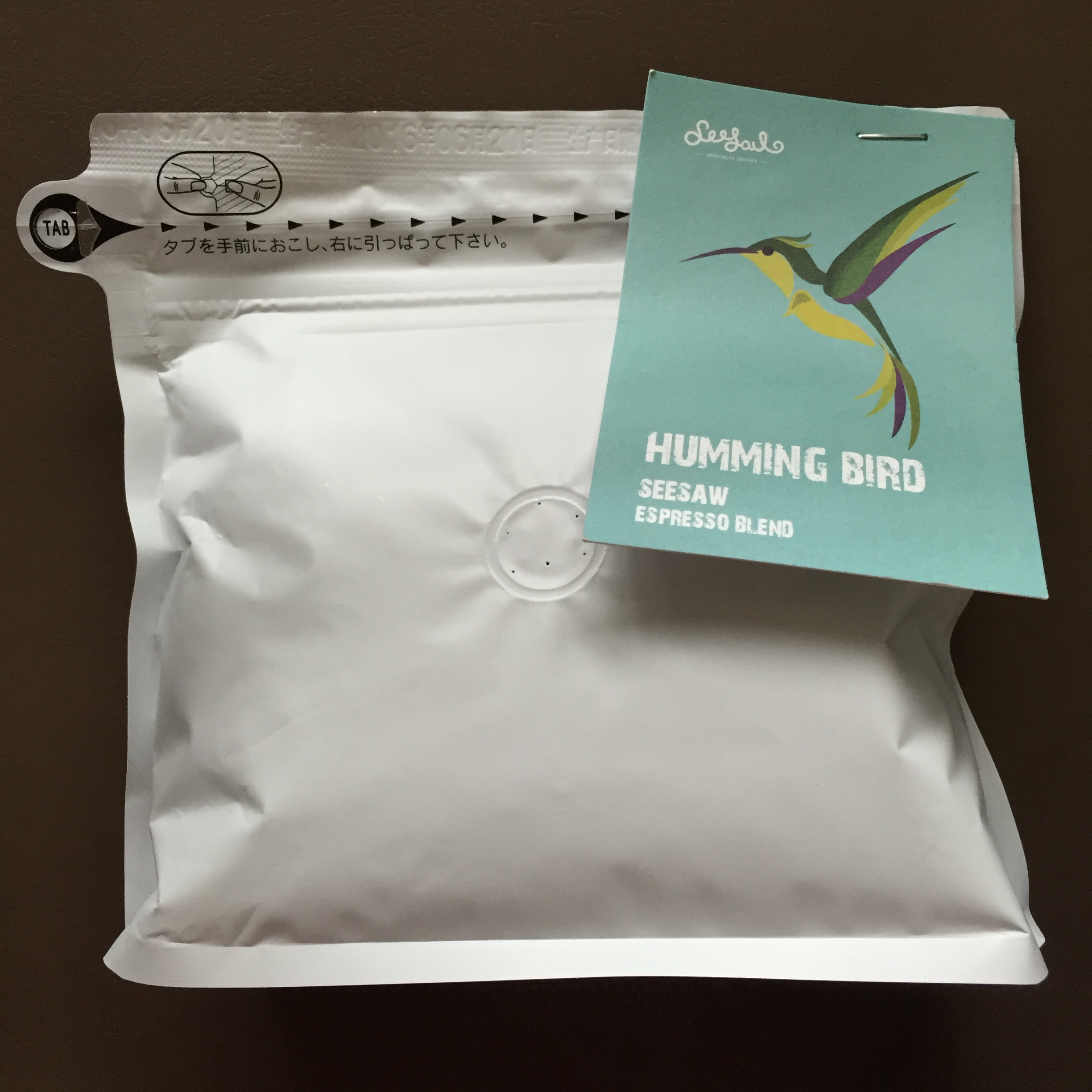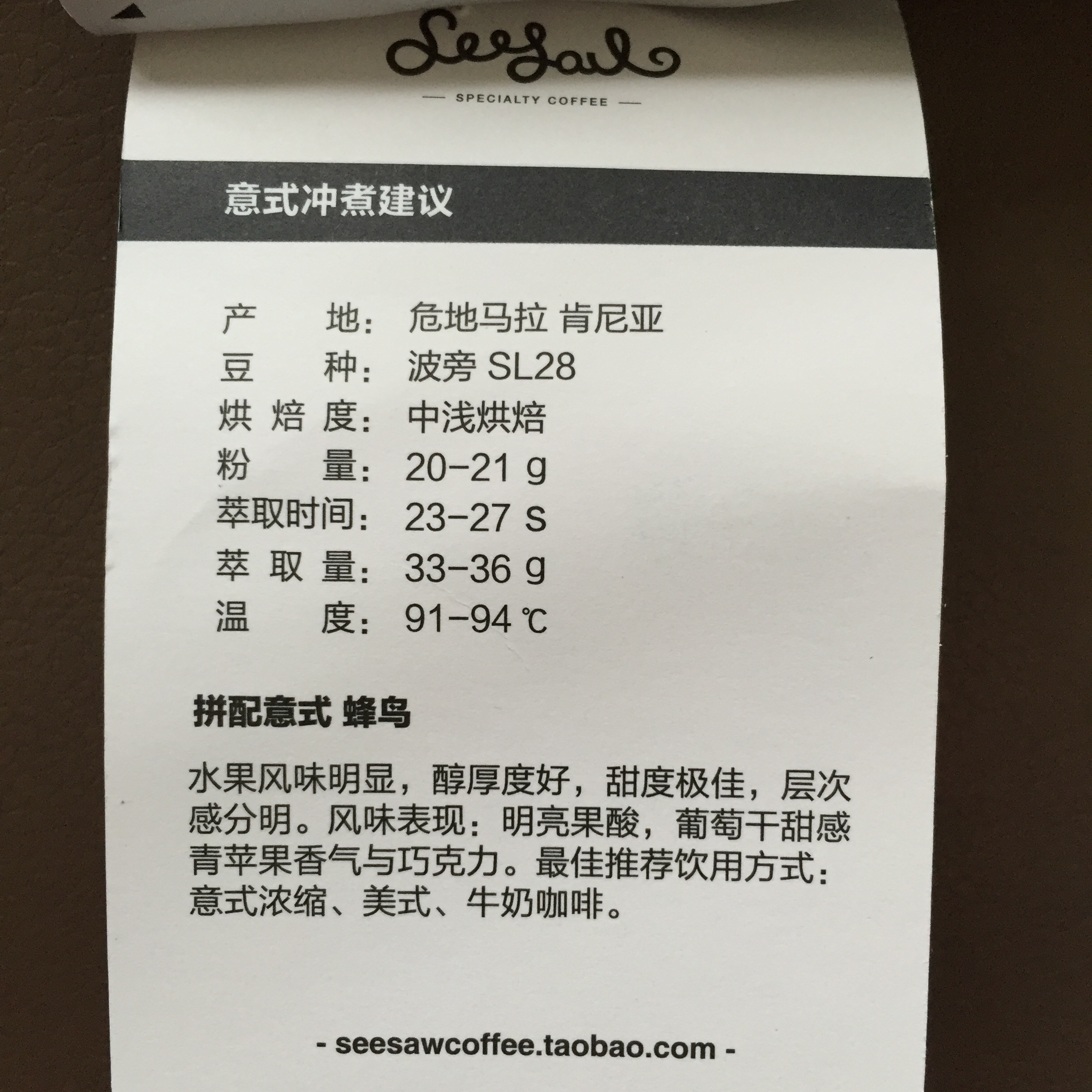 20 - 21 grams in : 33-36 grams out in 23-27 seconds at 91-94*C (196 - 201F).
I've been pulling this one on the cooler end of the spectrum around 196-197*F to coax a bit more fruit out, and have been dosing 19 grams in an 18 gram VST basket. Pull times to around 27 seconds, cutting the shots short a bit short to keep the yield down. As a straight shot, I did notice that this coffee was prone to over extraction if the yield was up in the 40+ gram range, and I much preferred the tighter, more syrupy shots. The coffee holds up well in milk as well, delivering a nice chocolatey sweetness.
I was also sure to try a cup of their natural Ethiopian of of their siphon bar, which came out okay, but was not one of my most memorable siphon experiences. Overall, these coffees and this location was a refreshing taste of third wave coffee in the US abroad, but I will say I much prefer what we're pulling stateside. If you're in Shanghai, be sure to check them out, they have many locations throughout the city, www.seesawcoffee.com.
The printed tasting notes on this one were what did it for me: red apple, dulce de leche, and subtle orange blossom. To be perfectly honest, I'm not sure that I picked up any of those, but there definitely is a very rich caramel sweetness, so I guess I'll give it the dulce de leche. I'm obviously on a bit of Colombian kick lately, and this one that is wet milled and then dried in parchment, fall more into the category of what I thought of Colombian coffees before this year - very smooth, rich, sweet, and easy to drink. I had this as a V60 pourover in the cafe, and didn't get much in the way of subtle floral's or red apple, and I wasn't able to coax anymore out at home either. Knowing Cartel brews their pour overs with by filling a kettle with water off the boil and letting it sit a minute, I assumed the water temp was probably a below 200F to start and declining. I went as low as 196F on my Bonavita PID Kettle, and went with a 2:30 brew time in the V60 with a few stirs really focusing on getting an even and full extraction, and the juiciness and acidity did increase, but not necessarily in completely positive ways. I think the coffee would have been overwhelming for many, and it was approaching it for me.
I did however try a different approach and put this at a coarse grind through the immersion brewer and got delightful results. In the Bonavita Immersion Dripper, I used a 1:17 ratio at 196F, with an immersion time of 2:00 and a draw down time of an additional 2 - 2:30 for a total brew time in between 4 and 4:30 and was rewarded with silky smooth cup of that dulche de leche (read caramel) sweetness. So, this coffee wasn't necessarily in the same vain as so many of the other Colombians I've had this year blowing me away with complexity and fruited sweetness, but it did deliver as a more traditional, really good, and super silky smooth, easy to drink cup of Colombian coffee. I'd imagine this one would work quite well in the Chemex or an automatic brewer as well. Pick some up from Cartel, $19 for a 12oz bag.